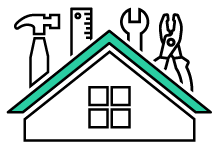 The fastest way to add value to an investment property is a complete renovation. For Spartan Invest, that typically means a new roof, new heating and cooling system, updated kitchens and baths, and new hardwood floors. We have created a streamlined process to reduce renovation cost and maximize return.
It Starts With The Team.
We have our own dedicated team of general contractors and specialists who work exclusively for Spartan Invest. This allows us to avoid high outside vendor costs while ensuring the quality of work.
Economies of Scale.
Because we renovate so many houses, we have created a system of standard renovations that allow us to buy materials in bulk. For example every home we renovate gets the same fixtures in the kitchen and baths. This allows us to buy the fixtures in bulk at discounted rates. It also makes repairs easier because our repair team knows what to expect when they get a repair ticket.
Protect The Investment.
We believe in renovations that reduce long-term headaches for our investors. We put brand new tin roofs and HVAC units in 80% of the homes we renovate because those fundamental renovations protect our investors for years to come.
Our 3 "M's" of Rental Property Renovation
Is it a safety

must

?

Will a tenant pay

more

for the feature?

Will this reduce long-term maintenance

costs?