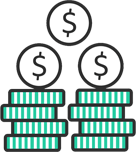 Spartan Invest believes in complete transparency with our investors. We consider ourselves partners and we always want you to know exactly what is going on with your property. To ensure complete transparency and deliver real-time status reports, Spartan has made a significant investment in AppFolio. Through the AppFolio software platform, every Spartan investor has access to their property dashboard. All you have to do is log in to your dashboard and you can see (in real-time) everything that is going on with your property. You can instantly view your current lease agreement, check-in on tenant current lease payments, view your rental draws, or check the occupancy rate of your entire portfolio.

Investor Relations Team
On top of our online property management software, Spartan Invest provides you with a direct point of contact after your purchase. You'll be provided with your own Investor Relations Specialist to help you with all of your portfolio needs. They provide address property performance, provide an annual portfolio review, and ensure you're in the loop on all things property management.