As you well know, choosing the right market is key in real estate investment. Getting in at the right time, when an economy is primed for growth and a community has an eye on expansion, can set your investment up to take off like a rocket. What better way to do that then in the Rocket City, aka Huntsville, AL? This burgeoning metropolitan area is investing in infrastructure, attracting corporate investment, and maintaining a focus on community and culture that makes it appealing for those in search of quality of life. The following are our top 5 reasons for leveraging Huntsville's investment potential.
Its Population
Rocket City may just sound like a catchy name, but Huntsville earned the right to use it. In the 1960s, the then comparatively small town was the development center for some of the first rockets used in the space program. Decades later, that aerospace legacy has translated into a workforce that is one of the most highly educated and skilled in the country. In fact, according to the US census, Huntsville has the highest concentration of engineers in the U.S.
Population growth and wage growth in the city have continued to grow over the last two decades. According to the Huntsville Madison County Chamber, the metro area expanded employment by 32 percent between 2000 and 2017— in other words, twice the rate of employment growth recorded across the country as a whole. And as the Bureau of Economic Analysis reports, wage growth has kept up, as well, increasing at double the rate of the nation's during that same time period.
Corporations Love Rocket City
Multiple major corporations are investing in the Rocket City because Huntsville is such an attractive city, thanks to its educated population and ambitious growth.
Largescale projects in the region include a $1.6 billion Mazda-Toyota manufacturing facility announced in 2018. This project alone will create 4,000 new jobs with an average estimated salary of $50k per year – a massive investment in Huntsville that will continue to pay dividends in 2019 and beyond. Social media giant Facebook has also invested $750,000 in a data center in the region, demonstrating that the region has appeal to a diverse range of investors and is not siloed toward aerospace or manufacturing.
BOCAR, a Tier 1 automotive supplier, also recently invested $115 million in the city, building a new plant in Limestone country. This investment translated into 300 new jobs and is in keeping with the sustained growth in the automotive manufacturing sector that has been happening across Alabama.
Aerojet Rocketdyne also committed to build a state-of-the-art, 136,000 square foot manufacturing facility in the city, launching a new era of advanced manufacturing for the region. GE Aviation, too, has broken ground on two, side-by-side factories in Huntsville, dedicated to the mass production of silicon carbide materials used in jet engines and gas turbines.
In just six months in 2018, Huntsville saw over 2.5 billion in investment dollars flow in, according to data compiled by the Chamber: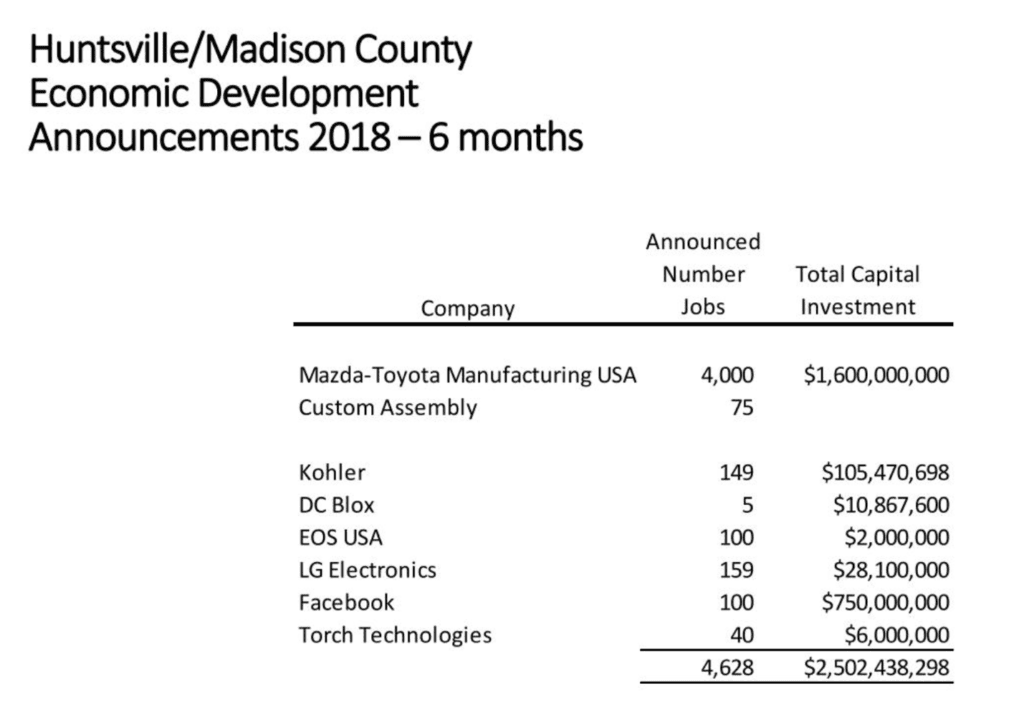 Huntsville is Investing in Culture and Quality of Life
Huntsville leaders understand one thing— attracting big business means maintaining a happy workforce. That's why they've invested heavily in the city's arts and cultural infrastructure to increase quality of life and deliver on a key economic development driver.
With a focus on sustainability, the city has invested in resource-friendly public transportation and manages an extensive network of greenways and trails that attracts those with an active lifestyle. Cultural investments are on the rise, as well, with the expansion of the Von Braun Center and a comprehensive commitment to arts and education. Current and future Park projects will incorporate more residential housing and community event spaces, along with business and lifestyle services, retail, and restaurants.
A new $40 million amphitheater is underway in the public park as part of the MidCity development project. This event facility is expected to generate $4.8 million in revenue from concert tickets alone for the city. More important, however, is what this new project will bring to the lives of those living in Huntsville. Located next to the city's largest employment area and at the intersection of major commuter hubs, the amphitheater will serve as an entertainment center for the region, combining pre and post game or show activities for attendees.
An Infrastructure Built for Growth
Huntsville is pursuing a determined campaign that will ensure the city's infrastructure will keep up with all of this expansion. Aware that they need to prepare the city for its ongoing success, municipal leaders initiated a comprehensive Restore our Roads program in 2014. Under this $250 million initiative, Huntsville's leaders sped up and funded extensive road improvements across North Alabama. Nine high-priority road projects, including the Northern Bypass extension and the South Memorial Parkway Overpasses, have shown that the city is prepared for what's to come and can create an infrastructure that can support growth and investment into the future.
Cummings Research Park, too, as the second largest research park in the country and fourth largest in the world, has attracted over 300 companies and houses more than 26,000 employees and 13,500 students.
A Diverse Economy
Finally, the Huntsville economy displays the kind of diversity necessary for all of these positive signs to continue well into the future. The Huntsville / Madison County region is home to a diverse range of industry sectors beyond aerospace, technology development and manufacturing. Emerging areas include robotics, small satellite development, energy, and cyber security to name a few.