As the capital of Alabama, Montgomery is at the heart of it all. In the 1960s, it was the birthplace of the American civil rights movement. Today, it's a major center for industry giants and the public sector.
This rare and one-of-a-kind mix of old southern charm and 21st-century dynamism makes The Gump—as it's affectionately called by locals—an attractive place to live, earning it the #3 spot in U.S. News and World Report's "Best Places to Live in Alabama in 2022-2023".
Unsurprisingly, this also makes Montgomery a hotspot for investors. As home to both the Maxwell-Gunter Air Force Base—a 4,100-acre base home to more than 12,500 active duty airmen—and a fairly large student population among multiple universities, the city's real estate investors enjoy strong demand for rental housing and healthy cash flows.
In short, Montgomery's diverse economy, culturally rich community, inviting downtown, and booming property market makes it ripe for real estate investors. Let's explore four main reasons why Montgomery is the ideal city for your next rental property purchase.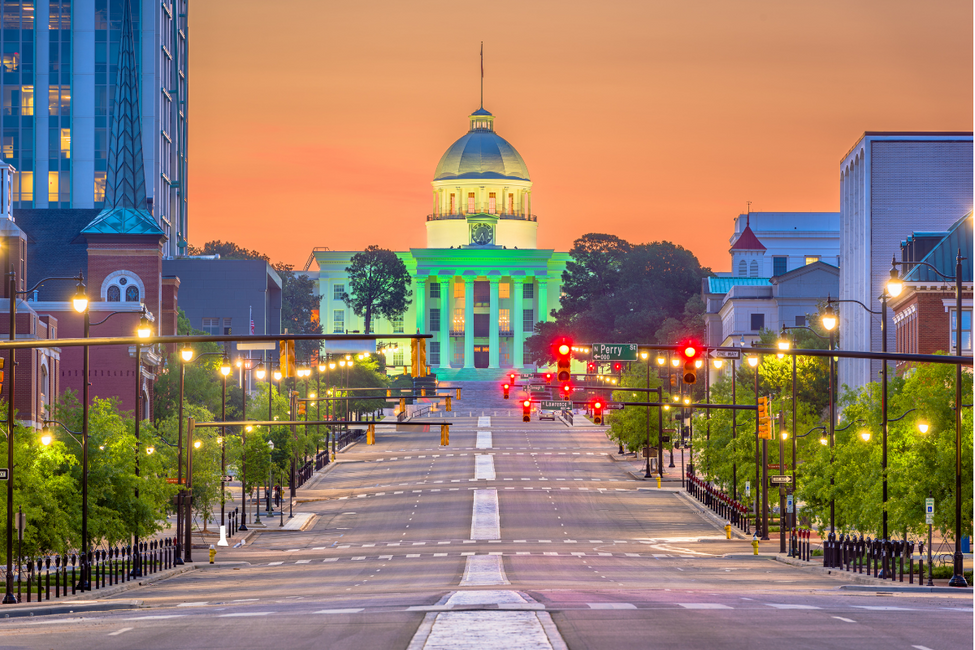 Strong population and employment growth
Montgomery is the second-most populous city in Alabama, behind only Huntsville. In the past year, the city's metro area population grew by about 1.94%, making it now home to 367,000 residents. This steady growth shows little sign of stopping, and is just one indicator of Montgomery's thriving real estate market.
The city also hosts a large number of students—the overwhelming majority of whom are renters. Over 11,400 students are enrolled across Huntingdon College, Faulkner University, Alabama State University, and Auburn University's Montgomery Campus—the city's largest institutions of higher education—contributing to its sizable renter population. According to Zumper, 46% of homes in Montgomery are now renter-occupied.
The city's job market is also on the rise. According to the U.S. Bureau of Statistics, employment in Montgomery increased by 1.1% between March 2021 and March 2022 and is predicted to grow roughly 30% in the next ten years.
On the contrary, unemployment is on the decline. After peaking at 14.9% during the height of the COVID-19 pandemic, Montgomery's unemployment rate is now down to 3.6% in August 2022—in line with the national average.
Job creation is also robust, with the city adding 3,900 jobs between August 2021 and August 2022. Since 2019, Montgomery has seen its wages rise by a citywide average of 14%—with a 2% increase in this year alone. As a result, the median household income in Montgomery is up 3.3% from last year. The city's growing population, a strong job market, and rising wages all point to a robust rental market with rising demand and appreciation potential.

A fusion of old and new
Montgomery is known for its historical and cultural landmarks. While the city continues to honor its pivotal role in the civil rights movement, it's also at the forefront of new and emerging trends. For example, the city treats residents and tourists alike to some of the South's most impressive attractions, such as the Montgomery Zoo and the Alabama State Capitol. In fact, the Men's Journal Magazine ranked Montgomery as the best places to travel to in 2022.
History lovers will also be enthralled by the city's tradition-steeped landmarks, like the expansive Rosa Parks Library Museum, the Freedom Rides Memorial, the Legacy Museum, the Civil Rights Memorial Center, the National Memorial for Peace and Justice, and other hotspots.
Similarly, the city has a bustling art and cultural scene. Located within Montgomery's historic downtown is the Hank Williams Museum—a 6,000-square-foot exhibit that pays homage to one of the 20th century's greatest singer-songwriters. Nearby is the Scott and Zelda Fitzgerald Museum—the site of the author of The Great Gatsby's Jazz Age home. Across town, the sprawling, 175-acre Wynton M. Blount Cultural Park is home to the Annual Shakespeare Festival and the Montgomery Museum of Fine Arts. Together, these institutions highlight and enrich the city's prolific cultural landscape.
Apart from art, history, and culture, Montgomery abounds with exciting family-friendly activities, good nightlife, and hot new restaurants to explore. Sandwiched between the Riverwalk Stadium and the banks of the Alabama River is Riverfront Park, which features a 6,000-person capacity amphitheater that hosts live concerts and performances throughout the year. In the evenings, residents can enjoy meals and a relaxing boat cruise on the perfectly preserved Harriott II, a 19th-century riverboat.
Montgomery's tourism and hospitality industries offer an array of real estate investment opportunities, ranging from meeting spaces and hotels to special event venues and short-term rentals. In fact, visitors to Montgomery generate over $1.9 million in revenue per day, while short-term rentals in the city also enjoy over 70% occupancy rates all year round.
A well-diversified economy
An extensive service industry, wholesale and retail trade, and a thriving industrial base all contribute to Montgomery's diverse economy. There is strong employment across all sectors of the economy, and no single sector accounts for more than a quarter of the city's labor force.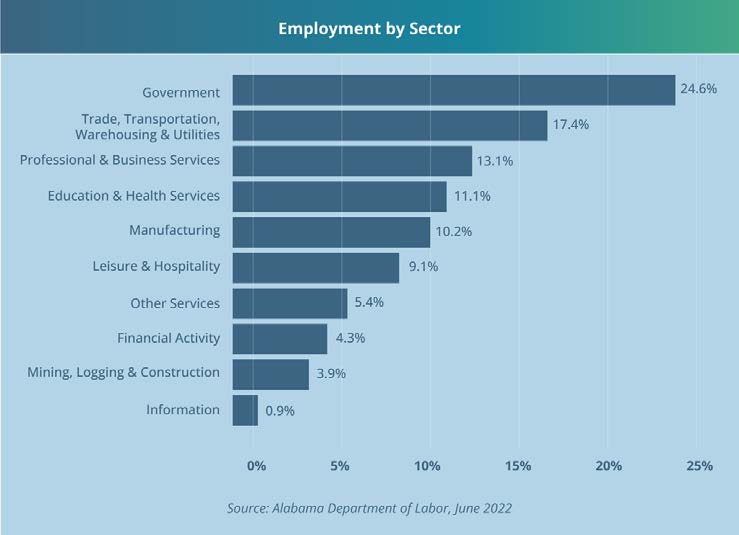 Among the major employers is the U.S. Air Force, which employs over 38,000 people and contributes an estimated $2.6 billion to the economy every year. Other large public sector employers include the State of Alabama and Montgomery Public Schools, which employ 11,380 and 4,524 people, respectively.
The city has also long been known as a hub for carmakers. Named the most efficient and productive auto manufacturing plant in North America, Hyundai Motor Manufacturing Alabama has over 3,500 employees and contributes roughly $4.8 billion to the state's economy. In April 2022, the automotive manufacturer announced a $300 million investment in its Montgomery plant to accommodate its electric vehicle project. The expansion is expected to create 200 new jobs.
The city's shipping and construction industries are experiencing rapid growth. In February 2022, e-commerce giant Amazon announced that it was investing $100 million in a new 650,000 square foot inbound cross-docking (IXD) facility, a move that will bring 500 jobs to the Montgomery metropolitan area. Other large-scale developments include the $600 million Beverage Park by Manna Capital Partners—a project expected to create 280 full-time jobs in the city—as well as the Alabama Port Authority's $54 million new inland container intermodal facility (ICIF), which will create over 2,600 new jobs and bring in $340 million in new revenue.
The packaging industry is also taking shape in Montgomery. In July 2022, Premier Tech announced a new $33 million facility for its systems and automation group. Once open in March 2023, the 165,000-square-foot facility will employ approximately 180 people. Similarly, FedEx Ship Center also plans a $52 million expansion of its existing distribution and logistics hub. Once operational, the expansion will bring 150 new jobs to the facility.
As businesses flood Montgomery with high-paying jobs, rental property owners will be able to capitalize on this growth in demand from new tenants. In summary, a vibrant economy benefits everyone: tenants, landlords, and employers alike.

Booming and affordable real estate market
Despite Montgomery's high-growth labor market, real estate in the city is relatively cheap, with a median listing price of just $170,000. Compared to the national median listing price of $427,000, homes in the city cost 37.5% of the national average. In fact, at $100 per square foot, Montgomery ranks among the top ten most affordable cities in the country.
Even beyond housing, Montgomery remains a budget-friendly city. The metro area boasts a cost of living that is 22.7% lower than the national average, while grocery and transportation costs all come in below both the state and nationwide average.
Tax burdens are also light. With an average property tax rate of 0.390%, an investor or homeowner with a property assessed at $300,000 will pay a mere $1,170 in property taxes every year.
While the costs of housing and everyday living are both remarkably low, home values and rents are rising. The average rent for a one-bedroom apartment in Montgomery is $925—representing a 26% increase from 2021.
And according to Zillow, Montgomery home values have increased by 19% over the previous year—4.1 percentage points above the national average of 14.9%. The city's House Price Index is now at an all-time high, having eclipsed its previous peak by over 20%.